BLOGGER YARD SALE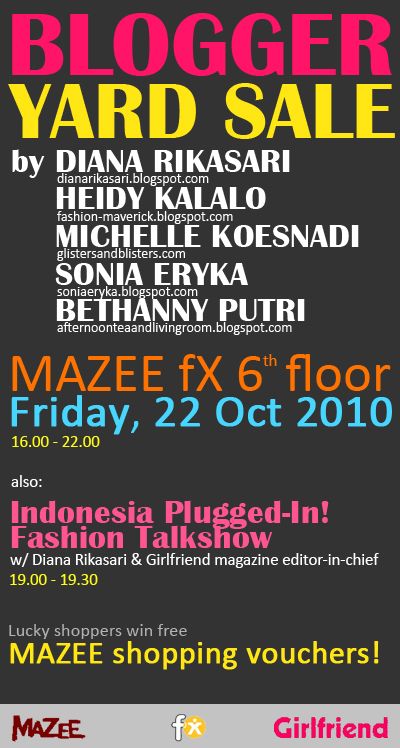 The blogger yard sale was a blast! the crowd was "wild" and pretty awesome!
and it was such a pleasure to work with the fabulous & talented bloggers.
in this rare opportunity, I got a chance to work directly with kak bethanny.
she's pretty cool & nice & I'm very thankful for the great time!
not to mention tht I'm very grateful for the buyers! and now, there's no much piled unused stuffs in my home.
yeeaaay, epic success! :D
it was located in mazee, FX:


with
michelle
with
mira
with kak
bethanny
THE CROWD:
kak
heidy
's booth which located besides ours ;)
"ayo cek bon!"
the tenants (exclude mbak retail therapy)
sonia's booth
sonia & kak
diana
's. wow, hectic!
talkshow w/ girlfriend magz & kak diana
and the pics from other blogs:
taken from:
Diary of: THE RIOTOUS BELLE
taken from:
hot chocolate and mint
the crew
courtesy:
hot chocolate and mint
courtesy:
glisters and blisters
cheers!
sartob